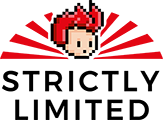 Strictly Limited Games brings you great console games for Switch, PS4 and PS Vita in strictly limited physical editions.
"We love games just as much as you do and we truly believe that games, as an art form, should be taken seriously and properly valued – that's why we really need to have them preserved safely in physical form for future generations."
​Press-StartGames.com offers a very limited quantity as an exclusive affiliate and supporter of Strictly Limited Games in the Netherlands.
​Visit www.strictlylimitedgames.com for more info on products and new releases!
Each game comes sealed and with a bonus physical postcard!
Available at this moment:
EGRET II Mini - Arcade Cabinet Blue Edition (NEW)

EGRET II mini - Arcade Cabinet Blue Edition

Just as you remember it!

The Taito EGRET II was introduced in 1996 and was an instant hit. Now, the EGRET II mini, a faithfully miniaturized, high-end home console version of this…

€ 319,99

EGRET II Mini - Game Center Blue Edition (NEW)

EGRET II mini - Game Center Blue Edition

Just as you remember it!

The Taito EGRET II was introduced in 1996 and was an instant hit. Now, the EGRET II mini, a faithfully miniaturized, high-end home console version of this…

€ 439,99

Heaven's Vault (Switch, NEW)

Decipher an ancient language and discover a forgotten past in this award-winning narrative adventure game!

Game Description

Welcome to the Nebula: a strange network of moons linked by rivers in space, where ancient robots…

€ 34,99

Jim Power: The Lost Dimension (Switch, NEW)

Ready to return to the virtual world?

The 16-bit classic Jim Power is back, and unlike you've ever seen it before! Run, jump and shoot your way through a variety of stages to foil the evil Vaprak's plans to get to the 5th…

€ 34,99

Zero Tolerance Collection (Switch, NEW)

Zero Tolerance CollectionThe Zero Tolerance Collection combines Zero Tolerance, the never released sequel Zero Tolerance Underground and an unlockable prototype of Beyond Zero Tolerance to an ultimate compilation of 16-bit shooter…

€ 34,99

Wonder Boy Anniversary Collection (PS4, NEW)

There has never been a Wonder Boy collection quite like this!Featuring 21 versions of six of the most iconic Wonder Boy games ever released, this incredible compilation brings the influential platformer series to today's…

€ 59,99

Wonder Boy Returns Remix (Switch, NEW)

A Classic Arcade Masterpiece!

Wonder Boy Returns Remix the High Definition Remake!

Boy, our protagonist is at the beach spending time with other girls behind his girlfriend Tina's back. That was when Tina confronts him and Boy…

€ 39,99

Wild Guns Reloaded Collector's Edition (Switch, NEW)

The SNES Classic Is Back, and Better Than Ever!Lovingly crafted pixel art and frantic arcade style gameplay, in single- and multi-player!

Features:∙ Beautiful pixel art, now in high definition!
∙ Fast paced, reaction-based…

€ 74,99

Deathsmiles I + II (Switch, NEW)

Deathsmiles is CAVE's bullet-hell shoot-'em-up where you take the role of one of four Angels to defend the magical land of Gilverado from an invasion by Hell itself! Team up with a friend, choose an angel, and eradicate this…

€ 54,99

Rolling Gunner (Switch, NEW)

Defy all odds and save humanity!

In Rolling Gunner, you are humanity's last hope in the defence against the now-sentient computer system BAC that is powering and controlling nearly all of the world's engines and the…

€ 44,99

Rolling Gunner (PS4, NEW)

Defy all odds and save humanity!

In Rolling Gunner, you are humanity's last hope in the defence against the now-sentient computer system BAC that is powering and controlling nearly all of the world's engines and the…

€ 44,99

SOLD OUT

Clockwork Aquario Collector's Edition (Switch, NEW)

The lost myth finally for modern console after almost 30 years!Clockwork Aquario:

Clockwork Aquario was the last arcade game ever developed by the legendary Westone Bit Entertainment in 1992, but was never finished. The game was…

Last Labyrinth - PlayStation VR (PS4, NEW)

Last Labyrinth:

You are vulnerable and tied up. With your arms and hands bound and immobilised in a wheelchair, you are at the mercy and reliance of Katia, a mysterious girl. She is your only way to escape from the mansion in an…

€ 39,99

A Magical High School Girl (Switch, NEW)

A Magical High-School Girl is a magic crafting rogue-like RPG!

The only weapon you possess is the magic you conjure from within.

You can freely name your magic. The elemental properties and effects are generated automatically…

€ 39,99

Spelunker HD Deluxe (Switch, NEW)

Spelunker HD Deluxe coming with awesome fresh graphics and a new game mode!

Whilst exploring dark caves and avoiding getting beaten by the dangers that lurk in the depths, players can enjoy a fresh visual appeal with new 3D…

€ 34,99

Spelunker HD Deluxe (PS4, NEW)

Spelunker HD Deluxe coming with awesome fresh graphics and a new game mode!

Whilst exploring dark caves and avoiding getting beaten by the dangers that lurk in the depths, players can enjoy a fresh visual appeal with new 3D…

€ 34,99

Darius Cozmic Revelation (Switch, NEW)

Darius Cozmic Revelation:

G-DARIUS HD and DARIUSBURST Another Chronicle EX+ are the two 3D games of the Darius series, both of which will include updated features to appeal to newcomers and longtime fans of the series…

€ 64,99

Pressure Overdrive (Switch, NEW)

In Pressure Overdrive you visit an action packed world, filled with crazy characters and funky humor. This enhanced version will challenge your skills, while you race, ram and blast your way through countless bullets and enemies.…

€ 39,99

Speed Limit (Switch, NEW)

Speed Limit is a constantly changing, fast-paced action game that never slows down. In each new stage you are met with a new set of mechanics and gameplay. As soon as you think you've mastered the stage's mechanics, the game…

€ 39,99

Speed Limit (PS4, NEW)

Speed Limit is a constantly changing, fast-paced action game that never slows down. In each new stage you are met with a new set of mechanics and gameplay. As soon as you think you've mastered the stage's mechanics, the game…

€ 39,99

Space Invaders Invincible Collection (Switch, NEW)

Space Invaders is a founding block of video game history that filled the arcades. It is said that the game made 100 Yen coins scarce and defined the visuals and mechanics in the first decade of video games. Until this day, Space…

€ 59,99

Bite the Bullet (Switch, NEW)

(Includes patched upgraded cartridge later distributed)

Bite the Bullet:

Bite The Bullet is the world's first Run & Gun & Eat. In this roguelike RPG shooter you must eat enemies, bullets and more to powerup your character,…

€ 59,99

SOLD OUT

Coffee Talk Collector's Edition (Switch, NEW)

Coffee Talk is a game about listening to people's problems and helping them by serving up a warm drink out of the ingredients you have in stock. It is a game that depicts lives as humanly as possible, while having a cast that is…

SOLD OUT

Coffee Talk Collector's Edition (PS4, NEW)

Coffee Talk is a game about listening to people's problems and helping them by serving up a warm drink out of the ingredients you have in stock. It is a game that depicts lives as humanly as possible, while having a cast that is…

Coffee Talk (Switch, NEW)

Coffee Talk is a game about listening to people's problems and helping them by serving up a warm drink out of the ingredients you have in stock. It is a game that depicts lives as humanly as possible, while having a cast that is…

€ 39,99

Coffee Talk (PS4, NEW)

Coffee Talk is a game about listening to people's problems and helping them by serving up a warm drink out of the ingredients you have in stock. It is a game that depicts lives as humanly as possible, while having a cast that is…

€ 39,99

SOLD OUT

Guns, Gore & Cannoli Capo Dei Capi Edition (Switch, NEW)

Vinnie is back to business for PS4 and for the first time on Nintendo Switch!

Guns, Gore & Cannoli:

Welcome to Thugtown circa 1920, the height of Prohibition.

Guns, Gore & Cannoli is an over-the-top, comical and fast-paced…

SOLD OUT

Guns, Gore and Cannoli 2 Collector's Edition (PS4, NEW)

Vinnie is back to business!

Welcome to the 1940's. Europe is being torn apart by the war, the USA is preparing for battle and the mob does business as usual. Only this time they went too far, even for Vinnie's standards.…

SOLD OUT

Guns, Gore and Cannoli 2 (PS4, NEW)

Vinnie is back to business!

Welcome to the 1940's. Europe is being torn apart by the war, the USA is preparing for battle and the mob does business as usual. Only this time they went too far, even for Vinnie's standards.…

SOLD OUT

Sisters Royale (Switch, NEW)

The first new game in 12 years from Alfa System, the team that brought Castle of Shikigami to you!

Five uniquely talented sisters are fighting over which of them will marry the angel Yashin. Enjoy the heroic(?) strategies of all…

SOLD OUT

Sisters Royale Collector's Edition (Switch, NEW)

The first new game in 12 years from Alfa System, the team that brought Castle of Shikigami to you!

Five uniquely talented sisters are fighting over which of them will marry the angel Yashin. Enjoy the heroic(?) strategies of all…

SOLD OUT

Sisters Royale (PS4, NEW)

The first new game in 12 years from Alfa System, the team that brought Castle of Shikigami to you!

Five uniquely talented sisters are fighting over which of them will marry the angel Yashin. Enjoy the heroic(?) strategies of all…

SOLD OUT

Darius Cozmic Collection Arcade (Switch, NEW)

Darius is one of the pioneers of horizontal Shoot 'em up games and was developed by the legendary TAITO Cooperation and first released for arcade machines in 1986. In Darius, the player slips into the role of a spaceship pilot,…