- Wie zijn wij?
Press-Start Games wordt beheerd door mij, Jur. Ik verzamel zelf al jaren en ben actief op diverse bekende websites binnen de retrogaming community. Een lang verlangen om vanuit mijn eigen passie voor retro games 'n eigen webshop te starten heeft ertoe geleid Press-StartGames.com te beginnen. Ik wil mijn jarenlange ervaring meenemen in dit avontuur om jullie, medespelers en medeverzamelaars van de beste service en mooiste items te voorzien! Meer over mij weten? Lees het hier!
- Wanneer wordt mijn pakketje verstuurd?
Besteld & betaald tussen zondag 22:00 en dinsdag 22:00 = verstuurd op woensdag.
Besteld & betaald tussen dinsdag 22:00 en donderdag 22:00 = verstuurd op vrijdag.
Besteld & betaald tussen donderdag 22:00 en zondag 22:00 = verstuurd op maandag.
- Hoe lang duurt het ongeveer voordat een pakketje arriveerd?
| | |
| --- | --- |
| Nederland | 1-2 dagen na verzending. |
| Europa | 5-7 dagen na verzending. |
| Wereld | 7-14 dagen na verzending. |
- Kan ik mijn pakketje traceren?
Ja, al onze pakketjes worden met een track en trace code verstuurd! Briefzendingen zijn hiervan uitgesloten.
U kunt er op vertrouwen dat alles met zorg wordt verpakt zodat er geen schade tijdens verzending kan ontstaan!
- Verzenden jullie wereldwijd?
Zeker, je vindt alle landen terug in ons check-out systeem.
- Wat zijn de verzendkosten voor Nederland/België?
Verzendkosten hangen af van het gewicht en grootte van de zending. Als u selecteert wat u wilt kopen vindt u in het check-out systeem precies wat de verzendkosten zullen zijn. Op onze voorpagina ziet u bij wat voor bedrag er geen verzendkosten worden betaald!
- Heeft Press-Start Games een retourbeleid?
Bij gebreken kunt u zendingen binnen 14 dagen retourneren, neem daarvoor wel eerst even contact met ons op via:
- Geven jullie garantie op producten?
Zeker, op alle producten zit 1 maand garantie!
- Kan ik mijn bestelling ophalen?
Dat kan, u kunt er voor kiezen om uw bestelling de eerstvolgende werkdag op te halen in onze winkel in Appingedam.
- Waar zit jullie winkel?
Onze winkel bevind zich aan de Dijkstraat 62 in Appingedam.
- Wat zijn de betaalopties op de site?
U kunt betalen via:
Ideal
Bancontact
PayPal
Bank overschrijving (IBAN)
Er komen geen extra kosten bij. Ideal is alleen beschikbaar voor Nederlandse klanten.
- Testen jullie producten?
Zeker, alles wat we aan onze producten toevoegen, tenzij nieuw en gesealed, wordt getest. Producten worden vlak voor verzending nogmaals getest om te kunnen garanderen dat de klant tevreden is met de levering.
- Wat betekend "Boxed / CIB / Complete"?
"CIB" staat voor Complete In Box, dit wil zeggen dat een spel of console compleet is met handleiding en doos. Wanneer een spel of console niet CIB is, ontvangt u enkel het spel of console. U ziet dit ook duidelijk in de foto's.
- Wat betekenen de "HOL, FRA, UKV" en andere codes?
Deze staan bij de Nintendo games. Als je HOL achter een titel ziet staan, dan wil dat zeggen dat het de Nederlandse versie is zoals die in Nederland in winkels is verkocht. Tekst op de doosjes is dan vaak Nederlands. Bij UKV gaat het om de versie die in het Verenigd Koninkrijk in de winkels heeft gelegen. Sommige verzamelaars zoeken alleen specifieke versies, daarom staan deze codes ergens achter. Wanneer de taal in een spel zelf anders is dan Engels, dan specificeren we dat in de omschrijving van de game.
Heeft u hier vragen of twijfels over, vraag dan gerust even!
- Wat betekend de staat of conditie?
Verzamelaars willen natuurlijk graag weten in welke staat een spel verkeerd, vooral als het gaat om kartonnen doosjes. Wij proberen dit via de foto's en omschrijving zo duidelijk en objectief mogelijk weer te geven. Eventule imperfecties zullen we ook laten zien en beschrijven. Bij CD's en DVD's kunnen normale gebruikerssporen zichtbaar zijn, deze zijn onvermijdelijk wanneer een CD of DVD is afgespeeld. Spel CD's of DVD's met krassen komen niet in ons assortiment terecht. Deze worden vooraf streng bekeken.
- Wat ik op de foto zie is wat ik krijg?
Ja, al onze artikelen hebben een eigen foto. Wanneer u een spel besteld met compleet en net label, krijg u deze ook. Wanneer u een losse Nintendo cart besteld met UKV code (landcode) omdat u zelf toevallig het boekje en doosje al heeft met dezelfde code, dan krijgt u ook precies die cartridge. Uit ervaring weten we dat dit soms heel belangrijk is voor klanten, dus benadrukken we graag dat wij hier rekening mee houden!
- Waarom is veel informatie op de site in het Engels?
Onze website trekt veel klanten vanuit de hele wereld. Om de site zo toegankelijk mogelijk te houden voor iedereen houden wij de Engelse taal aan. Waar wij het nodig vinden verschaffen we de informatie ook in het Nederlands. Als u toch vragen heeft of iets niet begrijpt kunt u altijd een berichtje sturen.
Heeft u verder nog vragen? Stel ze gerust via: info@press-startgames.com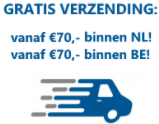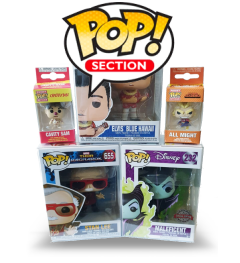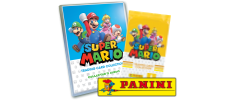 [WEBWINKELKEURWIDGET layout=new_default theme=dark color=#00408F show=yes view=slider amount=2 width=auto width_amount=240px height=250px interval=5000 language=nld]